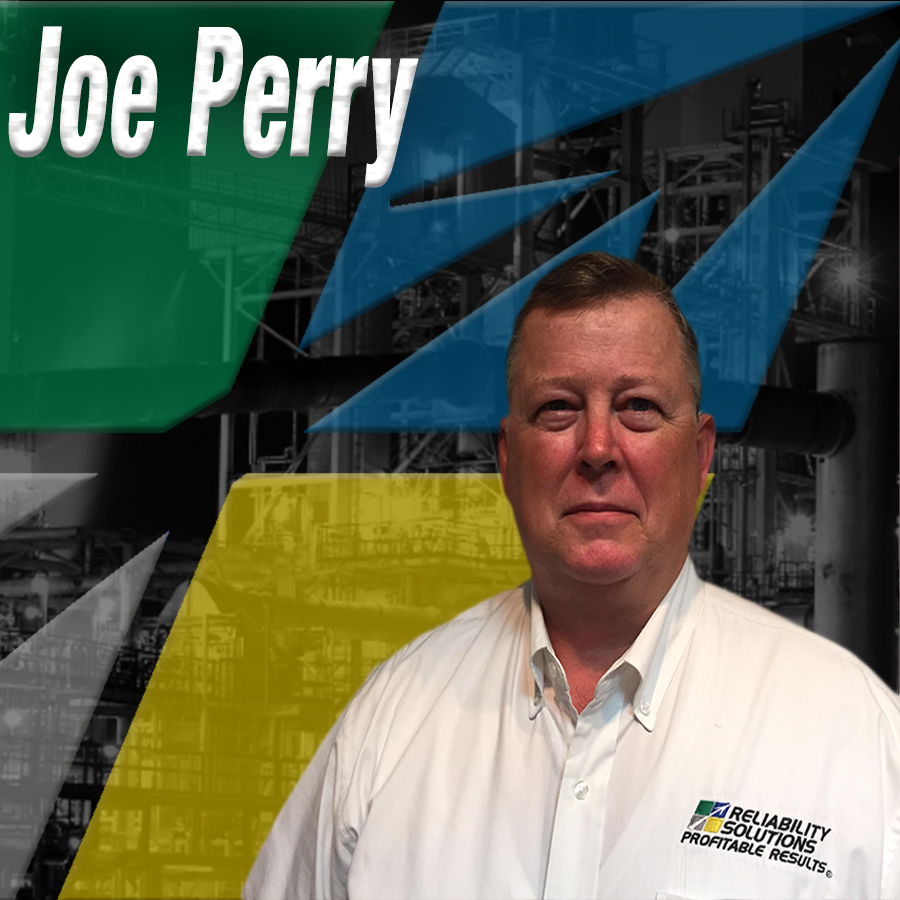 CMRP, CRE, Instructor / Developer
Credentials & Professional Development

MBA, Madison University, Gulfport, FL, 2001
BS, Nuclear Engineering Technology, Excelsior College, Albany, NY, 1993
Certified Predictive Maintenance (PdM) and Condition Based Maintenance (CMB) Expert—Infrared (IR), Vibration (Vibe), Ultrasonic (UT), Lubrication (Lube), Root Cause Analysis (RCA), Motor Circuit Analysis (MCA)
Lean Six Sigma Master Black Belt; Certified Change Accelerator Process (CAP) Facilitator
Certified Maintenance & Reliability Professional (CMRP); Certified Reliability Engineer (CRE)
Reliability Solutions Training LLC classes completed:Lead Reliability Engineer
Work History & training Engagements
U.S. Coast Guard
Life Cycle Engineering
U.S. Navy
Many others asking for anonymity
Summary of Qualifications / Career Overview
Joe Perry's career path defined itself early on in his tenure with the U.S. Navy where he received two years of nuclear engineering training during the onset of "Reliability Maintenance" programs for submarines. During a three-year assignment as an Instructor, he assisted in designing curriculum for a six-month training program for supervisors and new nuclear operators, which included "Reliability Maintenance" modules. Joe feels fortunate to have worked with the scientists that developed the initial "Reliability Maintenance" principles.
In his first civilian role, Joe supervised 55 engineering technicians in equipment operations and "Reliability Maintenance." From 2003-2008, he developed and launched a "Reliability Maintenance" program for the U.S. Coast Guard training about 7,500 people annually with $85 million in documented savings over three years. After leaving GE in 2008, he joined Georgia-Pacific where he reorganized the mechanical and electrical groups to align with GP's Reliability philosophy resulting in an increase in predictive maintenance items identified prior to equipment failure. He also overhauled the lubrication of electric motors in a mill operation with no lubrication-related failures for six years. Joe was promoted to Reliability Manager-Instructor in 2012 overseeing the curriculum design and delivery of Reliability educational programs.
Joe joined Reliability Solutions in 2015 to inspire and educate clients globally on the business, operations, and maintenance impact of implementing "Reliability Maintenance" programs.
Expertise & Client Contributions
Designing and refining "Reliability Maintenance" curriculum for audiences with all levels of experience including craftspeople, technicians, supervisors, engineers, and management.
Delivering practical, engaging, and insightful training on "Precision Maintenance" that elevates participants' skills, motivates employees during the change cycle, and raises awareness of the overall impact of Reliability principles.
Acting as a Change Agent in assisting employers in integrating the Reliability philosophy into maintenance and operations to increase quality, safety, uptime, productivity, equipment lifetime, and consistency while decreasing operating overhead and electrical costs.